15th August 2013
 Read about i-piggy's NODs Marketing Channel i-piggy_NODs_briefing_1
27th June 2013
Read i-piggy's Press Release http://uk.prweb.com/releases/2013/06/prweb10868005.htm :  "i-piggy.com Goes Crowd Funding to Launch Smart Tools to Help Town Centre Davids Take on Etailer Goliaths"
6th June 2013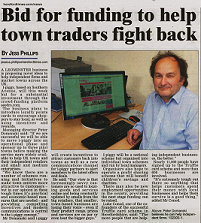 News feature in the Hereford Times (06/06/13) about i-piggy's bid for crowd-funding and our plans to sponsor and pilot in up to three towns – click on the image for the pdf.
6th June 2013
i-piggy's listing goes live on the Seedrs Investment Platform – A great opportunity for us to raise the funds needed to take i-piggy to the operational stage and start helping town centres, local business communities – as well as hard-pressed customers!  You can now invest from £10 in the i-piggy proposition.
You can now follow i-piggy on Twitter – @ipiggyUK
15th May 2013
i-piggy Co-founder wins Prestigious Award!
Peter Domanski, i-piggy director (on the right), wins First Prize in the Dry Cider class in the Hereford Cider Museum 2013 International Cider & Perry Competition
22nd March 2013
i-piggy is entering 'Beta' phase and is starting discussions to select 3 towns to pilot the service